7 Sister Crafts[How this man is helping artisans to growing]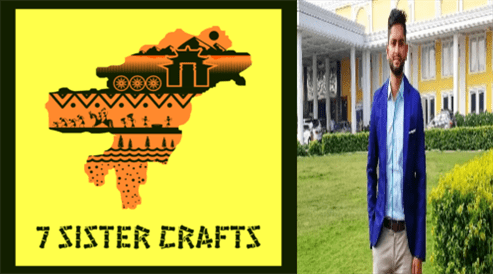 7 Sister crafts 
7 Sisters Crafts is a web platform founded by Sunam Taran in the year 2018, on a mission "to help artisans sell their handicrafts items with easy accessibility to the larger customer base".
Handicrafts items include cable lamps, street lamps, decorative items for the home, Office, Kitchen items, bamboo furniture for home & office use.  
| | |
| --- | --- |
| startup | 7 Sisters Crafts |
| Website | www.7sistercrafts.com |
| Founded | Aug 2018 |
| Headquarters | Barpeta, Assam |
| Products | Bamboo Items   |
| Revenue Model | B2B, Profits Sharing |
How did 7 Sister Crafts start in 2018?
After working for a  Mumbai-based adventure company, In 2018, Mr.Sunam has come back to his hometown Barpeta, Assam. where he started focusing on Bamboo artisans.
He has observed that there is a gap between the demand for handloom products and supply in the market, which requires an organized way to sell to the world at large.
So, Taran started building 7 sisters' crafts to act as a medium between the customers and the artisans.
Quick overview 7 Sister Crafts
Where does 7 Sister Crafts now in 2021?
In the year 2018, since the commencement of operations in Aug, it has garnered over INR 1.2 Mn, and for the following year 2019-2020, it has generated over  INR 3 Mn.
7 sisters crafts have customers over the countries of Australia, The US, The Uk as of now.
This Bamboo-based startup is now supplying to many shops, outlets, Kiranas, Restaurants etc..
7 Sister Crafts Expansion
According to Mr.Taran expansion plans are "building more infrastructure & Machinery so that artisans can manufacture more handicrafts items", was told to Jobifynn 
More
What are the different types of handicrafts?
Textile Crafts, Fashion Crafts, Decorative Crafts, Functional Crafts, Leather Crafts, Coconut Shell Crafts, Bamboo Crafts
What are the famous handicraft?
Thangka Painting, Bamboo & cane, Dhokra craft, Bead Craft, Wood craft, Coir craft, Stone carving, Pattachitra
We use cookies to provide you with the best possible user experience. By continuing to use our site, you agree to their use.
Learn more