Broomees [How this new startup is helping the maid industry in 2023]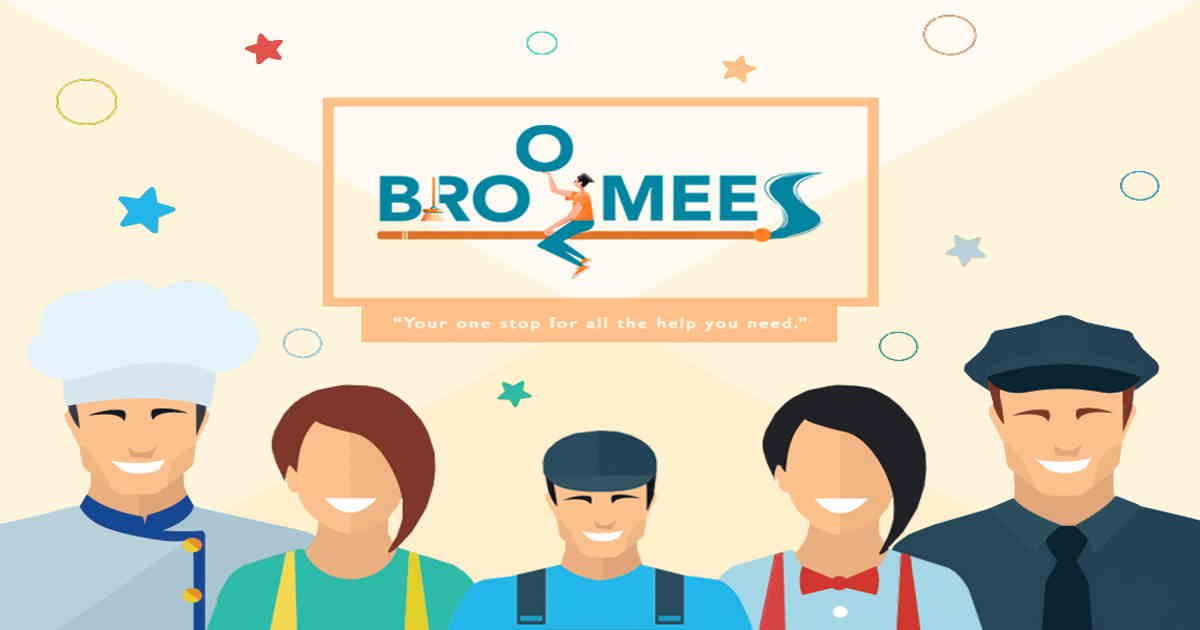 Broomees is a household services startup  
What is Broomees?
Broomees is a domestic help-providing platform. It is revolutionizing the way helpers are hired in India. Under its umbrella, it assists and provides a wide range of services for customers to choose from — both one-time and daily services. The startup was founded by Vaibhav Agrawal, Saurav Kumar, and Niharika Jain in 2020.
The vision is "to organize the sector and train and enable the surrounding helpers"
The mission is "to bring to customers — trained, experienced, and pandemic-ready conquerors"
| | |
| --- | --- |
| Startup | Broomees |
| Website | broomees.com |
| Founded | 2020 |
| Headquarters | New Delhi, India |
| Products | Domestic Helping Services |
| Revenue Model | One-Time Payment & Interval Payment |
How did it start in 2020?
The founders had the experience of working with several NGOs that made them to the idea of diminishing child labor. In their quest to understand the root cause, they realized that the parents of these children themselves are mostly uneducated and live a nomadic life, guided by the levels of development taking place in their surroundings.
It is then, Mr. Saurav Kumar felt that with Broomees, something more could be done than just fair wages. It is an attempt to organize this highly unorganized sector of maids and domestic servants in our country as well as to provide these people the dignity they deserve, and probably a sense of security for their children to continue with their education.
Here is a quick overview
Growth Rate
The startup began with a manual list of 50-60 helpers around where one of the founders, Mr. Agrawal stayed. The team started by placing these helpers in the neighborhood. Today, after 2 years in the market, This trio founded-startup has a total of 4 training centers across Delhi & NCR – 2 in South Delhi, 1 in Gurgaon, and 1 in Noida and plans to build a base in Bangalore by 2023.
Area of operations 
Currently, the startup is extensively operating out of South Delhi, Gurgaon, Noida, Ghaziabad, and Faridabad.
Services
The helpers are provided for baby care, domestic chores, cooks & chefs, all-rounders (equipped to do a variety of staffs) and 24-hour live-in workers.
Team
Starting with the 3 founders, the team of this service-based startup today stands at 150  employees, and more than 36,000 helpers are associated with the platform
Targeted Market
The target market is all the working professionals, particularly those living in the metro cities, who do not have time to personally find recommended helpers and go through background verifications.
Revenue Model
The customers book for domestic help as per their requirements on Broomees platform These helpers are trained and certified as per their needs, from baby care to cooking, by Broomees team. The helpers are hired on a monthly, annually, or bi-annually basis. After the end of a contract, workers are paid.
Competition
The potential competition for this domestic helping startup is online databases like WorkIndia & Apna that work as B2B companies to provide databases to other companies. Other than that, local agencies for maid hiring are also a competition but to uncertainty in training and background checks, the credibility lies with Broomees.
Certain startups like ChefKart (working only to provide chefs to households) are also a potential competition. With respect to the training of the helpers, which is the USP of the startup, there is no direct competition.
Broomees Funding
The founders did not stake any money from their own pockets. This Delhi-based startup started with zero investment as Broomees commenced revenue generation from its first year itself thanks to the expanded market that domestic helpers come with. A personal friend of one of the founders invested INR 10 lakhs in the startup that was only used post 9 to 10 months of operation of Broomees.
The startup has raised a total of US$ 600k in its two rounds from 100x.vc by Sanjay Mehta, 2am VC, Magic Fund, and Dholaki Dholakia Ventures by Dravya Dholakia.
Broomees has raised a total of IN₹ 1 Cr from the sharks of Namitha Thapar of emcure , Aman Gupta of BoAt, and Peyush Bansal of lenskart.
Expansion Plans
The current plan is to expand to other metro cities in India, starting with Bangalore.
SWOT Analysis
The strength of this service startup lies in its technology used to match helpers with customers and the training provided to the helpers, along with the extensive background verification that is performed by the team at Broomees.
The weakness is that there is a lot of dependency on the Composure of the workers.
The opportunity is incredible as this startup can be extrapolated to many other markets like patient care, pet care, etc.
The threat is that as the startup grows, seeing its success other competitors may arrive and they may spoil the market. That is why Broomees aspires to expand to all the metro cities in India as soon as possible.
Broomees Founders
Vaibhav Agrawal is the CEO of Broomees. He has finished his graduation from Delhi College of Engineering.
Saurav Kumar is the COO of Broomees. He has finished his graduation from Delhi College of Engineering.
Niharika Jain is the CSO of Broomees. She has finished her graduation from Hindu College Delhi University.
More
How much funding has Broomees raised to date?
US$ 600,000 or IN₹ 4.89 Crores
Who invested in Broomees?
1. 100x VC, 2.Dholakia Ventures, 3.Magic Fund, 4.2am VC, 5. PointOne Capital
We use cookies to provide you with the best possible user experience. By continuing to use our site, you agree to their use.
Learn more